News 23
Since 2017
Since 2017 I am PI of the DFG project "High Resolution IR-Cavity Ringdown Spectroscopy on Reactive Gas-phase Species". There is a surprisingly rich chemistry to be found in different regions in outer space. For example, in the vicinity of dying stars atoms combine to molecules and serve as seed material for dust formation (e.g. silicon carbides). Unlike on earth, interstellar molecules are very often non-saturated compounds that are highly reactive or even of ionic nature (like ionic complexes of hydrogen or noble gases). These species, which are difficult to produce in terrestrial laboratories, are valuable probes to determine the local physical conditions in cosmic environments. Now, with the availability of high-resolution IR instruments on telescopes like EXES/SOFIA and TEXES/N-Gemini a strongly increased demand set in for IR spectroscopic data. In addition, the highly sensitive James Webb space telescope will most likely start already in 2018. Thus, it is now possible to overcome the IR-opaque earthly atmosphere and to view into the mid-IR sky with high resolution astrophysical instruments. It is expected that the already scheduled line surveys will lead to new molecule detections. Specifically species that have no permanent dipole moment and cannot be investigated at radio wavelengths will be new on the list. Many of the expected molecules have characteristic spectra at mid-IR wavelengths. These spectra cannot be calculated by purely theoretical means to the necessary level of precision for astrophysical detections. Without new laboratory measurements the data situation is clearly deficient. The lack of experimental data has several reasons. One difficulty is the production of astrophysically relevant molecules in sufficient abundances, because these species are very reactive and only short-lived. Furthermore, very often adequate light sources for high-resolution mid-IR spectroscopy are missing. The aim of this work is to perform high-resolution and extremely sensitive measurements on astrophysically relevant molecules. Powerful quantum cascade lasers (QCLs) operating above 4.5 mu and OPO systems for the region 2-4.7 mu will be utilized as suitable light sources. These laser systems will be an integral part of the newly to-build highly sensitive cavity-ringdown (CRD) spectrometer. The IR-CRD spectrometer will be combined with special plasma molecule sources (laser ablation/electr. discharge) to produce in-situ high molecule abundances. With the irradiation of microwave radiation double resonance experiments will be feasible which are particularly suitable to investigate molecule plasmas. In practice, it is planned to measure silicon carbides (e.g. Si2C2) and ionic complexes (like [Ar-N2]+).
News 22
1st April 2014
Since April 1, 2014 I am working at the university of Kassel as researcher in the field of laboratory astrophysics.
News 21
1st January 2012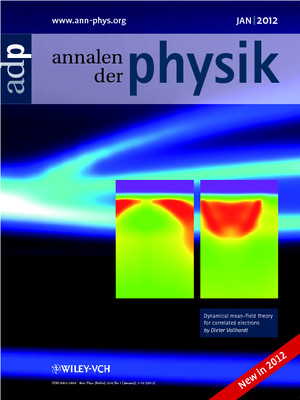 Since January 1, 2012 Guido Fuchs is Editor-in-Chief of Annalen der Physik. See issue 1/2012
[Issue]
See also video introduction.
News 20
September 2011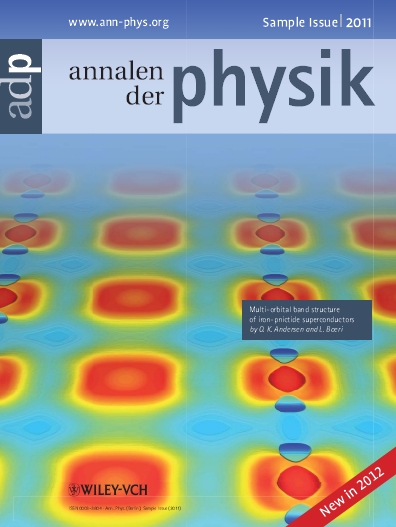 First sample issue of the new Annalen der Physik appeared. See contribution by Guido Fuchs (Managing editor) about the history of the journal. Download complete issue as pdf
[Sample Issue]
News 19
2011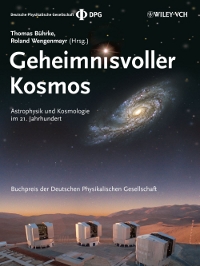 Book: "Geheimnisvoller Kosmos", eds. Thomas Bührke and Roland Wengenmayr, Wiley-VCH (2011), including an article by G.W. Fuchs about polycyclic aromatic hydrocarbons in space (in German)
News 18
November 2009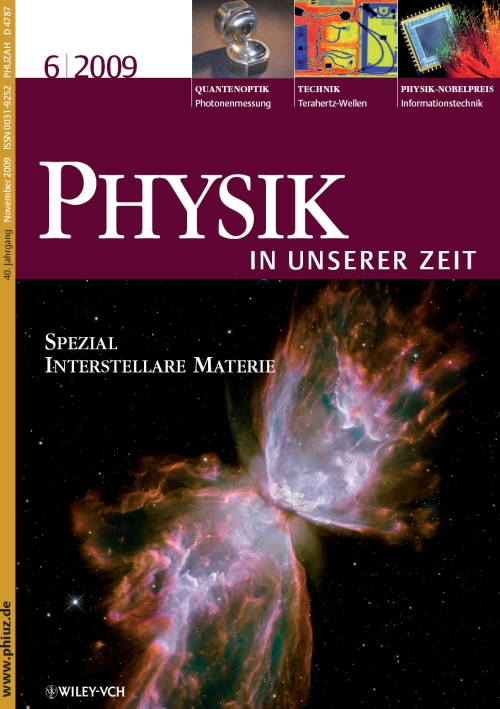 G.W. Fuchs (2009), "Polyzyklische aromatische Kohlenwasserstoffe im All, Kreislauf eines kosmischen Ueberlebenskuenstlers", Physik in unserer Zeit, Issue 6, p. 290-295 (2009) , [Journal site]
News 17
October 2009, Just published in A&A
Hydrogenation reactions in interstellar CO ice analogues A combined experimental/theoretical approach
G. W. Fuchs, H. M. Cuppen, S. Ioppolo, C. Romanzin, S. E. Bisschop, S. Andersson, E. F. van Dishoeck, and H. Linnartz
Astron & Astrophys., 505, 629-639 (2009) DOI: 10.1051/0004-6361/200810784 Raymond & Beverly Sackler Laboratory for Astrophysics, Leiden
Abstract:
Context. Hydrogenation reactions of CO in inter- and circumstellar ices are regarded as an important starting point in the formation of more complex species. Previous laboratory measurements by two groups of the hydrogenation of CO ices provided controversial results about the formation rate of methanol. Aims. Our aim is to resolve this controversy by an independent investigation of the reaction scheme for a range of H-atom fluxes and different ice temperatures and thicknesses. To fully understand the laboratory data, the results are interpreted theoretically by means of continuous-time, random-walk Monte Carlo simulations. Methods. Reaction rates are determined by using a state-of-the-art ultra high vacuum experimental setup to bombard an interstellar CO ice analog with H atoms at room temperature. The reaction of CO + H into H2CO and subsequently CH3OH is monitored by a Fourier transform infrared spectrometer in a reflection absorption mode. In addition, after each completed measurement, a temperature programmed desorption experiment is performed to identify the produced species according to their mass spectra and to determine their abundance. Different H-atom fluxes, morphologies, and ice thicknesses are tested. The experimental results are interpreted using Monte Carlo simulations. This technique takes into account the layered structure of CO ice. Results. The formation of both formaldehyde and methanol via CO hydrogenation is confirmed at low temperature ( T = 12-20 K). We confirm that the discrepancy between the two Japanese studies is caused mainly by a difference in the applied hydrogen atom flux, as proposed by Hidaka and coworkers. The production rate of formaldehyde is found to decrease and the penetration column to increase with temperature. Temperature-dependent reaction barriers and diffusion rates are inferred using a Monte Carlo physical chemical model. The model is extended to interstellar conditions to compare with observational H2CO/CH3OH data.
News 16
January 2009, Journal of Biophotonics
Since January 2009 Guido Fuchs is Managing Editor of the new Journal of Biophotonics (www.biophotonics-journal.org).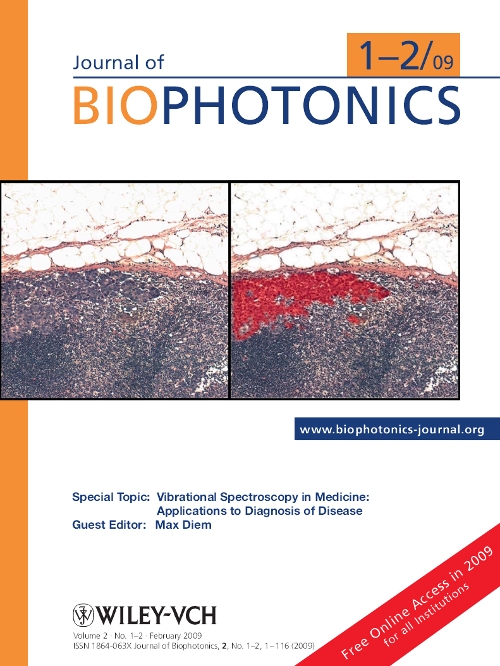 News 15
May 2009, Annalen der Physik
Since May 2009 Guido Fuchs is Managing Editor of the journal Annalen der Physik (www.ann-phys.org).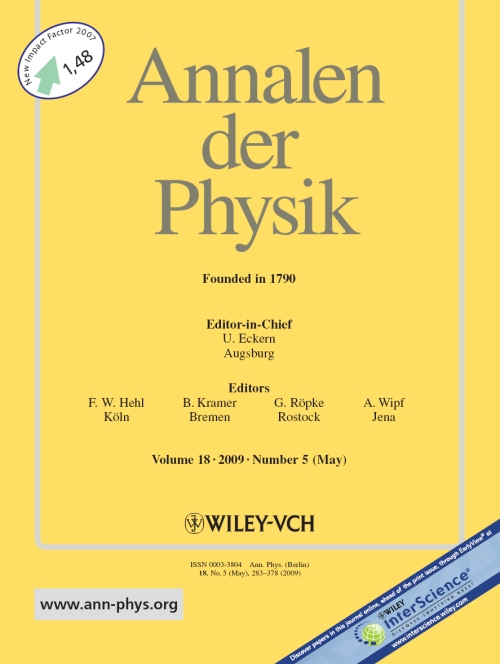 News 14
February 2009, Laser & Photonics Reviews
New LPR Editorial Advisory Board since 2009. The Advisory board has been increased by 9 new members invited by the Editor-in-Chief. Their commitment to LPR is a great honour for the journal and will strengthen the editorial expertise significantly. The new members are Federico Capasso, Robert M. Clegg, Naomi Halas, Satoshi Kawata, Ursula Keller, Joseph Lakowicz, Vladimir Shalaev, Anatoly Zayats, Joseph Zyss. (see as pdf)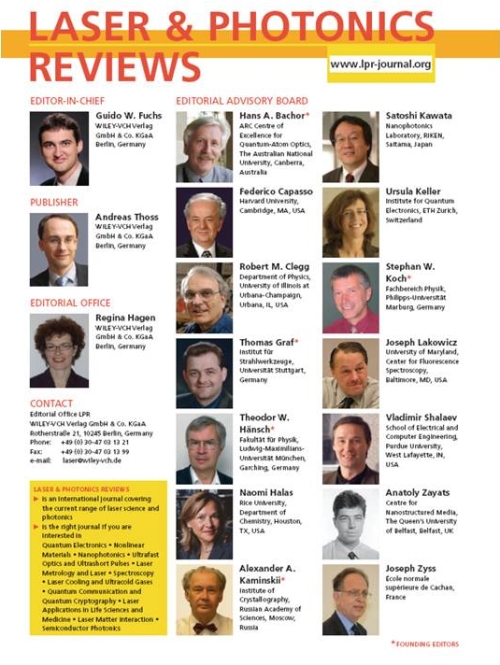 News 13
December 2008, Laser & Photonics Reviews
Issue 6 (2008) comes with an Editorial by G.W. Fuchs
(see Editorial)
News 12
4. December 2008, Rapid Reserch Letters (pss) - Focus Issue
Martin Stutzmann (Editor-in-Chief), Stefan Hildebrandt (Managing Editor) and Guido Fuchs (Deputy Editor) have launched the second Focus Issue on Photovoltaics - New Frontiers.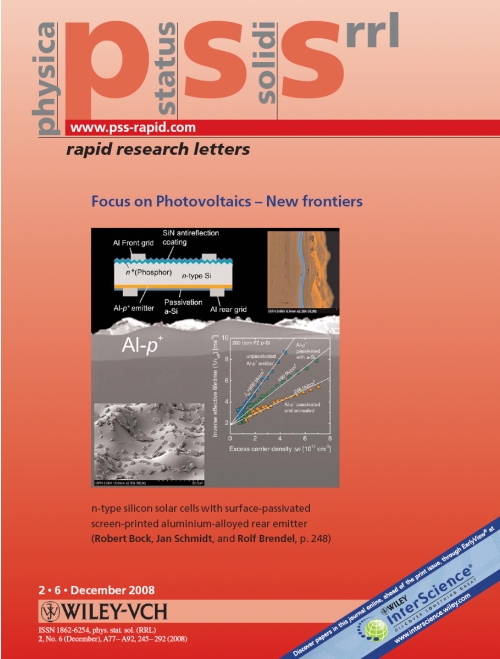 (phys.stat.sol. (RRL) 2, No. 6, p. - (2008))
News 11
19. September 2008, Guido Fuchs appointed as Web-Editor Pro-Physik.de
Guido Fuchs takes over the position of Web-Editor for Pro-Physik.de from Holger Kock. In additon to his role as Editor-in-Chief of the Laser Photonics reviews he will be responsible for the News content of the Pro-Physik site.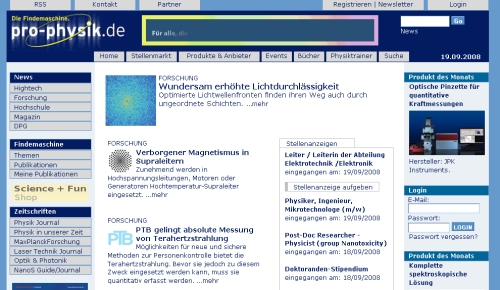 News 10
August 2008, pss-a - SCM 2007
Guido Fuchs is Guest Editor of the Third Seeheim Conference on Magnetism together with Mohammad Ghafari and Hirst Hahn.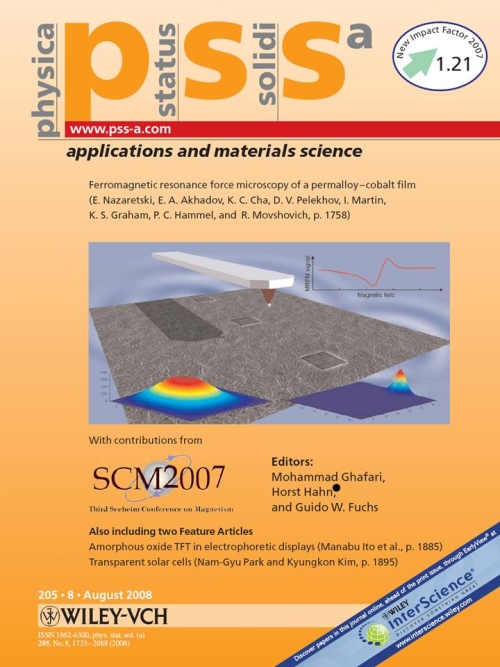 News 9
Novemver 2007, Rapid Reserch Letters (pss) - Focus Issue
Martin Stutzmann (Editor-in-Chief), Stefan Hildebrandt (Managing Editor) and Guido Fuchs (Editor) have launched a Focus Issue on Thermoelectrics and Nanomaterials - Opportunities for efficient energy conversion.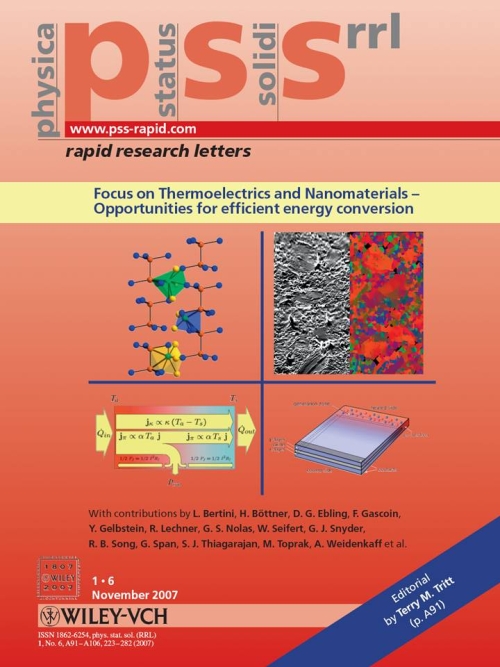 News 8
August 2008, Rapid Reserch Letters (pss) - Focus Issue
Martin Stutzmann (Editor-in-Chief), Stefan Hildebrandt (Managing Editor) and Guido Fuchs (Editor) have launched a Focus Issue on Photovoltaics - High Efficiency Solar Cells.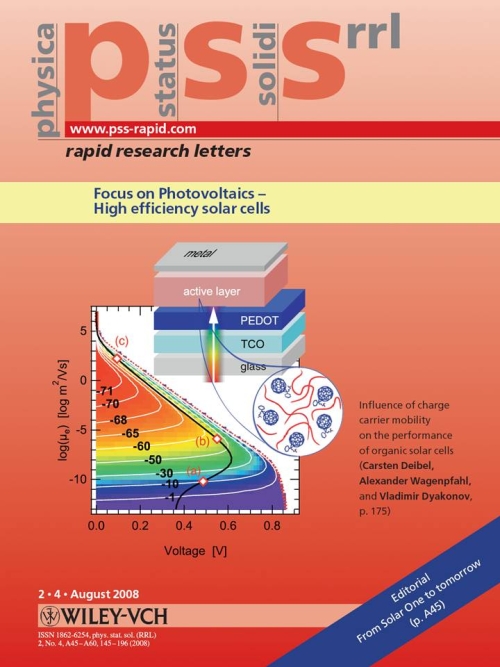 News 7
5.7.2008 New Editor Laser & Photonics Reviews
Guido Fuchs has been appointed Editor-in-Chief of the Journal Laser & Photonics Reviews on March 15, 2008. The first issue under his responsibility has now been published in print (LPR 2008, 3).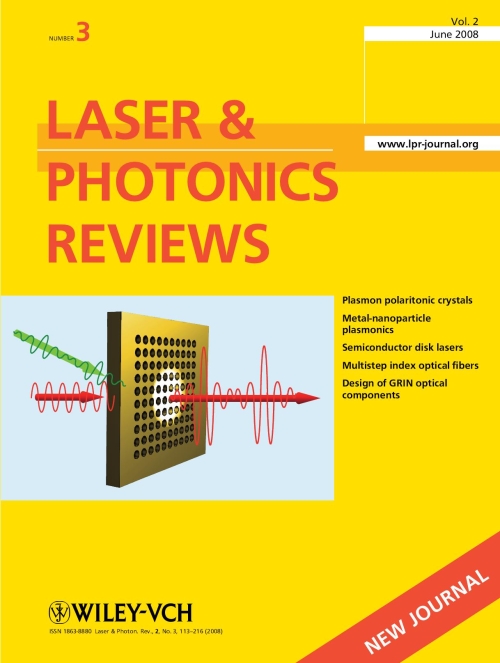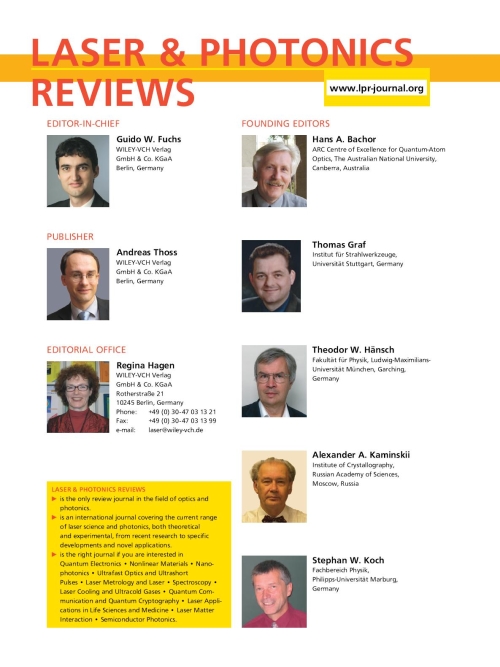 News 6
18.3.2008, SuW Article 4|2008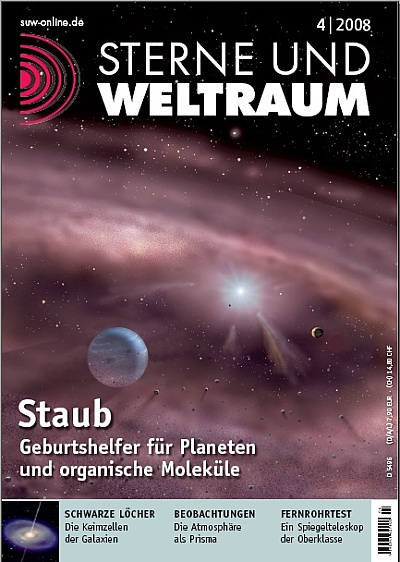 Article by G.W.Fuchs in the Astronomy magazine 'Sterne und Weltraum' (4/2008). The German language article "Astrochemie auf Staub und Eis" reports about the research performed during the Post-Doc time at the Sackler Laboratory in Leiden.
News 5
24. - 28.09.2007
"The chemical evolution of the universe on its smallest scales: Dust in stars, disks and planets", Astronomische Gesellschaft, Splinter Meeting, Wuerzburg, Germany, see Cosmic Matter 2007
Guido Fuchs: Invited Talk
News 4
12/13.09.2007
Wiley Global Physics Summit
The Summit aimed to clarify important points of publishing physics content from editorial aspects up to marketing and sales aspects. The journal business as well as the book, advertisement and portal business were presented. People came from around the globe (USA, Asia, England, Germany) to meet in Berlin and to discuss the activities of the Wiley physics branch. On Wednesday there were several talks about the editorial aspects of Wiley Journals and books. Stefan Hildebrandt, Ron Schulz-Rheinlaender, Sabine Bahrs and Guido Fuchs presented the editorial work for the journal physica status solidi.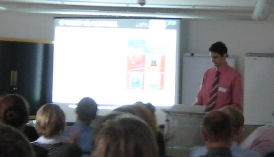 Guido Fuchs talking about the strategy and chances of the pss journal.
News 3
11.07.2007
Astronomy and Astrophysics, 470:749-759, 2007 July
Title: "Infrared spectroscopy of HCOOH in interstellar ice analogues"
Suzanne E. Bisschop, Guido W. Fuchs, Adwin C.A. Boogert , Ewine F. van Dishoeck, and Harold Linnartz
ABSTRACT
Context. HCOOH is one of the more common species in interstellar ices with abundances of 1-5% with respect to solid H2O. With the launch of the Spitzer Space Telescope new infrared spectra have become available of interstellar ices in different environments. So far systematic laboratory studies on HCOOH-containing interstellar ice analogues are lacking.
Aims. This study aims at characterizing the HCOOH spectral features in astrophysically relevant ice mixtures in order to interpret astronomical data.
Methods. The ices are grown under high vacuum conditions and spectra are recorded in transmission using a Fourier transform infrared spectrometer. Pure HCOOH ices deposited at 15 K and 145 K are studied, as well as binary and tertiary mixtures containing H2O, CO, CO2 and CH3OH. The mixture concentrations are varied from 50:50% to ~10:90% for HCOOH:H2O. Binary mixtures of HCOOH:X and tertiary mixtures of HCOOH:H2O:X with X = CO, CO2, and CH3OH, are studied for concentrations of ~10:90% and ~7:67:26%, respectively.
Results. Pure HCOOH ice spectra show broad bands which split around 120 K due to the conversion of a dimer to a chain-structure. Broad single component bands are found for mixtures with H2O. Additional spectral components are present in mixtures with CO, CO2 and CH3OH. The resulting peak position, full width at half maximum and band strength depend strongly on ice structure, temperature, matrix constituents and the HCOOH concentration. Comparison of the solid HCOOH 5.9, 7.2, and 8.1 m features with astronomical data toward the low mass source HH 46 and high mass source W 33A shows that spectra of binary mixtures do not reproduce the observed ice features. However, our tertiary mixtures especially with CH3OH match the astronomical data very well. Thus interstellar HCOOH is most likely present in tertiary or more complex mixtures with H2O, CH3OH and potentially also CO or CO2, providing constraints on its formation.
News 2
30.05.2007
The Astrophysical Journal, 662:L23-L26, 2007 June 10
Title: "Photodesorption of CO Ice"
Karin I. Oberg, Guido W. Fuchs, Zainab Awad, Helen J. Fraser, Stephan Schlemmer, Ewine F. van Dishoeck, and Harold Linnartz
Received 2007 March 28; accepted 2007 April 30; published 2007 May 24
ABSTRACT
At the high densities and low temperatures found in star-forming regions, all molecules other than H2 should stick on dust grains on timescales shorter than the cloud lifetimes. Yet these clouds are detected in the millimeter lines of gaseous CO. At these temperatures, thermal desorption is negligible, and hence a nonthermal desorption mechanism is necessary to maintain molecules in the gas phase. Here the first laboratory study of the photodesorption of pure CO ice under ultra-high vacuum conditions is presented, which gives a desorption rate of 3*10(-3) CO molecules per UV (7-10.5 eV) photon at 15 K. This rate is factors of 10(+2)-10(+5) larger than previously estimated and is comparable to estimates of other nonthermal desorption rates. The experiments constrain the mechanism to a single photon desorption process of ice surface molecules. The measured efficiency of this process shows that the role of CO photodesorption in preventing total removal of molecules in the gas has been underestimated.
News 1
01.03.2007
Guido Fuchs appointed as commisioning editor for Wiley-VCH physics book sector and editor for the journal physica status solidi.
Since 1.3.07 G.W.Fuchs supports Stefan Hildebrandt (managing editor), Ron Schulz-Rheinlaender (series editor pss-b) and Sabine Bahrs (series editor pss-a) with their editorial work. Prof. Martin Stutzmann (TU Munich) is Editor-in-Chief of the physica status solidi journals.
As commisioning editor for the Wiley-VCH physics books worldwide G.W.Fuchs is topic coordinator for
Plasma physics
Solid State Physics
Surface and Interface Physics
and reports directly to Alexander Grossmann Wiley-VCH. G.W.Fuchs also supports the
Physics Science History
sector.